We've got simple solutions that deliver powerful results. Bear Staffing provides much better service than regular temp agencies!
Bear's Inverted Recruiting Model
Rather than spending time screening massive amounts of candidates we should never place, Bear Staffing takes an exclusive approach to attracting and screen. Components of this approach include: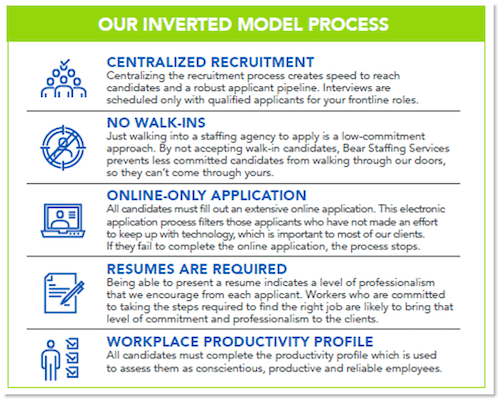 Technology-Driven Speed to Fill
Sourcing
Bear Staffing's centralized recruiting team utilizes multiple technologies to broadcast job postings across hundreds of recruiting sources, collecting and immediately engaging new applicants through AI communication tools.
Onboarding
Unlike most staffing firms, our onboarding process is 100% paperless, increasing speed and accuracy, and reducing administrative tasks that would otherwise take focus away from the recruiting team.
Selection
Artificial Intelligence technology immediately filters applicants on experience, availability, and job match, enabling our recruiting team to focus on the best candidates quickly, efficiently, and in high volume.
Assignment Management
Our communication technology is focused on enhancing the employee experience and encouraging employee feedback. Greater communication results in reduced call-offs, no shows, behavioral issues, and ultimately turnover.
There's a better way to build your team
An evolved recruiting approach to talent acquisition
Mumblecore shabby chic prism four loko af readymade.
By its very nature, high volume staffing presents a list of frustrations and challenges. As a recruiter or hiring manager, you need to fill various roles with an overwhelming number of hardworking, talented people. And you must regularly do so at a moment's notice. With 82 million hourly employees currently making up the US workforce, there's the…
All too often, people like to throw around words that sound like the correct thing to say. For instance, to sound more attuned to the times, many businesses recklessly bandy about the term "diversity." Diversity, in particular, is something that requires scrutiny. When related initiatives ring hollow and aren't strictly adhered to, the word tends to lose…
It isn't a stretch to say that 2020 has been a challenging year for all of us. The COVID-19 pandemic has sent a shockwave across all industries, presenting challenges for both employees and employers. Job cuts have brought record unemployment numbers, while social distancing guidelines have required organizations to innovate in order to accommodate a…
Subscribe to our Newsletter
Receive up-to-date news and announcements.